Simple! "OUR UNDIVIDED ATTENTION"
TPA's reputation in the tennis industry is widely known, over half of our students come from referrals alone! Every new player is welcomed with a personal interview that walks each parent/player through the process of establishing whether we are the right academy for their needs. From the onset this close relationship sets the tone and guaranteesanswers to questions, helping you make one of the most important decisions in your child's tennis career. Following your decision, you will still continue to receive communication through a spirit of inclusion from TPA on planning, process and achievements your child experiences.
TPA (formerly National Tennis Academy) is the culmination of Owner/Director Ripley Amell's vision of merging many of the dominant coaching systems from around the world into one student centered high intensity growth and development pathway.
Tournament Players Academy leverages it's strong presence in Tampa/Orlando; and provides elite leadership tennis coaching to a specific base of juniors.
Built on the core values of personalized development, sport science based international best practices, and quality over quantity training, we have successfully built a loyal family clientele that learnt to implicitly trust our process over the years, as well as our ability to consistently deliver valued solutions regardless of the complexity of player.
We have successfully built the trust necessary between parent, player and coach and have cultivated a "we are in this with you" versus a transactional approach to our tennis services. After only one year here in Tampa we are now exclusive coaching partners with many like minded juniors with goals of playing collegiate tennis as well as international players on short term visits and, we continue to expand our family of loyal players that demand and deserve the very best in their tennis coaching delivery.
TPA is strategically positioned for today and tomorrows high performance tennis player, and as families are realizing that a complete knowledge and understanding of Periodization, Annual Planning, Technical/Tactical and Physical/Psychological simultaneous training is critical in the modern tennis athlete.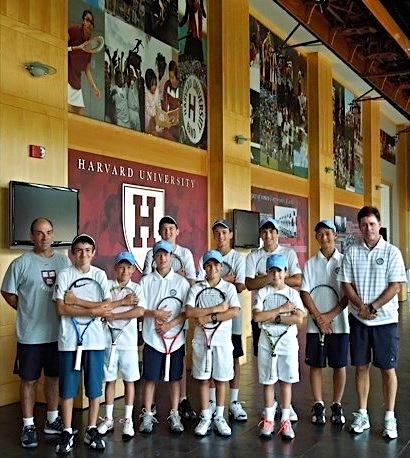 The choice is simple..…trust a coaching system that has been sport science based for over fifteen years or some others learning as they go!
Our reputation is founded on integrity, passion and a contagious sense of enthusiasm everyday in fostering a coaching environment that is supportive, allows for mistakes but most importantly champions the inner champion through one message "problem solving while never giving up".
One of the major differences with TPA is their conscious efforts to train boys and girls differently! Most academies simply have the girls follow along with the development of a boy's game program. Female players are playing the game at the highest level very differently from male players, and these differences are becoming greater as time goes on. The significant physical discrepancies between men and women have a huge bearing on how and why the game is played so differently. This contrast in strength means that female players tend to play from different court positions using different techniques than their male counterparts. Men tend to play farther behind the baseline with more spin and higher trajectories. So why would you train boys and girls the same?
TPA Long Term Planning Philosophy through Tennis LMS
The basis for TPA's development plan is the precise implementation of a systematic long-term plan for your child through the utilization of the Tennis Learning Management System (LMS). There are simply no short cuts or your child will suffer later as to whether they reach their goals. The achievement of TPA's tactical objectives through our growth and development model will dictate the content of other training factors i.e. technical, physical, and psychological, and maturation cycle. These training factors are appropriately coordinated with specific emphasis on our system aimed at meeting the development goals for TPA students.
TPA's player development model serves as the basis for the pathway of our stage 3 through stage 6:
Stage 3 – DEVELOPING
Boys/Girls *9-12/9-12
The focus of this stage is building physical literacy through continued development of tennis skills. This stage moves players from progressive tennis to full court tennis. This is the ideal time to learn, further develop and start consolidating tennis skills. Participants continue to participate in a variety of sports to develop the versatility required for tennis. During this stage, the player will continually demonstrate competence in the identified physical, technical, tactical and psychological skills that will indicate whether he/she should participate in the competition or recreation stream. The general objectives are to:
• Further develop and consolidate fundamental tennis competencies (technical/tactical) in match play
• Further develop basic mental skills (focus, emotional control, effort/determination, positive attitude)
• Develop basic competitive skills (learning how to cope with basic competitive environments)
• Introduce general physical preparation and further develop fundamental motor skills through participation in other sports
Stage 4 – CONSOLIDATING
Boys/Girls *13-15/12-14
This is a critical stage of development for the athlete/tennis player, as it sets the foundation for learning to be a competitive junior.
General Objectives
Mastering of 3 contact moves in three phases of play
• Consolidate learned skills from practice and apply in competitive situations.
• Continue to develop and refine technical skills in practice.
• Consolidate a specific game style emphasizing the execution of skills in a game situation.
• Introduce the concept of proper preparation and recovery through sleep, nutrition, good hygiene, hydration, sport massage, and effective warm-up and cool-down routines.
• Balance the increase in training/competition demands with social/lifestyle issues.
Stage 5 – LEARNING TO PERFORM
Boys/Girls *16-18/15-16
Each player has made a conscious decision to pursue a potential career as a "professional player."
General Objectives:
Mastering of 6 contact moves in all 5 phases of play
Complex movement patterns
tournament play vs match play protocols
ROI (return on Investment) Annual Planning i.e What is the big picture?
Continue to develop and refine technical skills
• Become a responsible and autonomous athlete through instilling successful habits, character
• Improve in the implementation of learned skills in competitive situations
• Develop flexibility, speed, strength, and aerobic endurance in all the physical skills
• Learn to cope with the challenges of varying competitive situations: different surfaces, wind, altitude, and game styles
• Understand key principles related to training, competition, recovery and equipment
Stage 6 – LEARNING TO BE A PROFESSIONAL
Boys/Girls *19-23/17-21+
This stage integrates and harmonizes the complex and diverse factors that contribute to performance in competition.
General Objectives
• Focus on performance goals in competition.
• Refine technical skills at competition intensity.
• Consolidate specific, personal game style.
• Develop flexibility, speed, strength and aerobic endurance in all competitive situations.
• Demonstrate the ability to select and care for equipment (racquets, strings, shoes).
• Ensure quality and consistency in diet, warm-up and recovery activities.
• Development of individualized annual plan identifying training, and competition phases.
High Performance Related Programs
• NCAA
Competition Opportunities
• ITF Futures events
• Open events
• U18 Nationals